In January 2018, York and District Indoor Bowls club threw open their doors for a Mixed Ability bowls taster day. Working with IMAS the club contacted local disability support services to promote a day of integration. The club has a history of involving disabled people, largely driven by the husband and wife team of Ray and Gill Clark who run a weekly Boccia session for a small group of people with Learning and Physical disabilities. Determined to build on this Ray asked IMAS for assistance in publicising the event and recruiting new participants. Now, one year down the line, the club celebrated their annual charity day with a morning of bowls-related games and an afternoon triples competition.  With over 60 participants, including experienced disabled and non-disabled club members, this provided a real opportunity for social interaction.
Glynis who is partially sighted, first started attending the Wednesday Boccia sessions back in April 2018.
"Some of our [Boccia] team have become members here and I intend to join as well. It's the fact that this takes us on the path to mixing with the regular members and not just playing against visually impaired opponents that I like. My sighted team members use verbal prompts to get me close to the jack."
Jon has been a member of the York and District Indoor Bowls Club (YDIBC) since he retired from work, also playing Crown Green Bowls. Although Jon has had partial paralysis of his left side since birth, he has never thought of himself as having a disability and therefore had never played in a disability group before. But, through MA Bowls, he found the sport was a 'natural fit' for him allowing him to use his 'one working arm'. With regards to the MA taster day he said: 'Today has really made me think about how people see disabilities, it's been very positive.'
Growing up With Bowls
Robert Domville described his family's relationship with Bowls and how the game offers more than one route for players who want to progress into the elite levels, disabled or not.
'Me and my brother [Alastair] first took up bowls as our great uncle had previously played and we were looking for something we could both do as Alastair has Cerebral Palsy. We joined New Earswick IBC in York as juniors in 2000. Throughout our time as juniors, we managed to win various regional competitions, and both represented the club in the Yorkshire adult and U18's leagues.
In 2004 after winning the junior club championship, I got selected to go to the Regional School of Excellence where I managed to get the highest technical score and subsequently went on to represent Yorkshire (alongside Alastair) in the National School of Excellence.
Alastair joined with CP-ISRA (now Disability Bowls England) in 2000 and has competed in various international tournaments including travelling to Connecticut in the USA for the World Games. He also won a bronze medal at the World Games in Nottingham a few years later and has previously won the National Disability Singles Championship. Disability Bowls England meet several times a year usually at Gedling IBC in Nottingham and have over 200 members which play regularly.
My mum (Sally) also took up bowls because she was tired of driving me and Alastair to competitions and just waiting around, she now captains the ladies' team at New Earswick in the county competition!'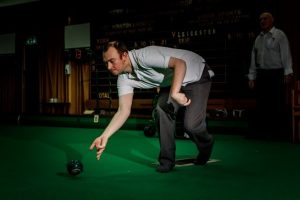 Pictured: Alastair Domville
John Wrigglesworth, Assistant Manager at YDIBC said 'It's not just about having one open day, it feels like we're giving something back to the community, we want to be representative of our local area not just a members club. From small beginnings where around 10 people met up to play Boccia once a week we now have another 8-10 visually impaired people regularly playing bowls. A small minority of members resist, wanting to maintain something like a private members club, but lots of our members have begun to volunteer following the lead of Ray and Gill. It's a win, win situation, a sustainable activity with increased membership for the club.'