On a typically rainy English summer day IMAS welcomed over 100 Mixed Ability players from across the country to Derby RFC to take part in the first ever 'XRugby7's Mixed Ability' tournament. XRugby7's is the RFU's newest full contact, half-pitch format of the game aimed at getting more people playing socially. IMAS Project Manager, Mike Hawkes explained, 'Considering the number of players we have involved and the variety of playing experiences, XRugby7's is the perfect format to ensure contact rugby is delivered in a social way. Aside from a winner's trophy the teams are also competing for the 'Spirit of Rugby' trophy, awarded to the team that best represents the RFU's core values'. The tournament provided a great opportunity to showcase the progress of teams involved in the 'Try for Change' project, giving them a chance to compete against some more established teams.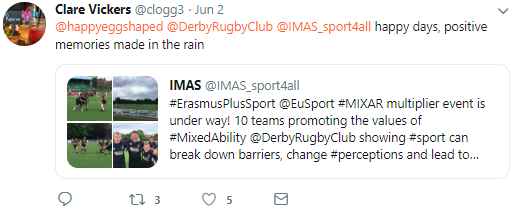 The day doubled as an Erasmus+ multiplier event, providing the platform for teams to show the reasonable adjustments they have made to ensure Mixed Ability rugby is as inclusive as possible. IMAS Director, Mark Goodwin commented that 'It's great to see how new teams have developed over the season. It's particularly pleasing to see teams helping each other out, sharing players where needed and generally exemplifying everything positive about the Mixed Ability format. Whilst you can see the differences in adjustments and playing styles, ultimately everyone is playing mainstream contact rugby in an inclusive way!'
Aside from the teams involved, the event also helped with the growth of Mixed Ability by educating people involved with the organisation and delivery of rugby around the country. All of the fixtures were brilliantly officiated by volunteer Young Match Officials (YMO's) from across the area who were experiencing Mixed Ability for the first time. Furthermore, each YMO was supported by an RFU Community Coach and referees from the local area. Feedback was extremely positive with one local referee and referee trainer describing it as 'the most enjoyable day of the season'.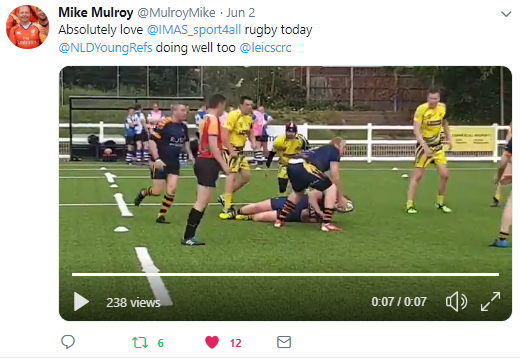 Whilst the day was full of individual highlights one stood out in the Derby Bucks v Hessle Vikings game when Martyn Murney, club chairman of Derby RFC, took to the pitch with two of his sons for the first time. Without Mixed Ability this wouldn't have been possible and we're looking forward to seeing many more similar stories as the number of teams continue to grow!
Overall, despite the weather spirits weren't dampened and it was incredibly positive day for the growth of Mixed Ability rugby. Thanks, must go to all of the clubs involved including: Derby Bucks, Hessle Vikings, Worcester Mixed Ability, York RI Steamers, Northampton Hellhounds, Longlevens Mixed Ability & Shropshire Stags for playing a great tournament in the right spirit. And finally, congratulations to our tournament winners Worcester Mixed Ability and the Spirit of Rugby winners York RI Steamers!