Almost 3 years after their first visit by IMAS and on the hottest day of the year so far, the Gloucester Griffins Mixed Ability (MA) rugby team were awarded with an accolade  only held by four other teams across Europe. Based at Longlevens RFC in Gloucester, the Griffins have gone from strength to strength over the past three seasons and now field a strong senior MA side along with weekly junior MA sessions. Because of this they felt the time was right to apply for their accreditation to showcase the great work they are doing.
The day began with the IMAS trainers (including adults with and without disabilities) explaining the theory and development of Mixed Ability Sport. Lively debates were had around what can be considered 'disability' whilst the use of identification vs non-identification on a rugby pitch also provided a range of opinions. Participants then moved out into the bright Gloucester sunshine as the club coaches put the players through their paces in the sweltering heat. IMAS Project Manager Mike Hawkes observed that the session activities were '"fun, interactive and tailored to show evidence of player progression." Martino Corazza added that "everyone was engaged, included and challenged, this was an excellent and well-planned session with plenty of water breaks given the sweltering conditions!"
In the afternoon, after a much-appreciated lunchtime BBQ, participants worked in a mixture of small teams and whole group discussions to complete the Adult Safeguarding and Adult Mental Health units of the MA Accreditation. One of the participants commented that "the passion of the trainers made the subject much more interesting". The day was rounded off with a discussion on how to continue with their current growth whilst developing the team and sharing best practice. Darren Nestola, Griffins Coach, suggested the idea of a MA coaching forum on social media. This idea has already been implemented and can be found on Facebook under 'Mixed Ability Coaching Forum'.
Following the training the club took to Twitter to share the good news of their accreditation.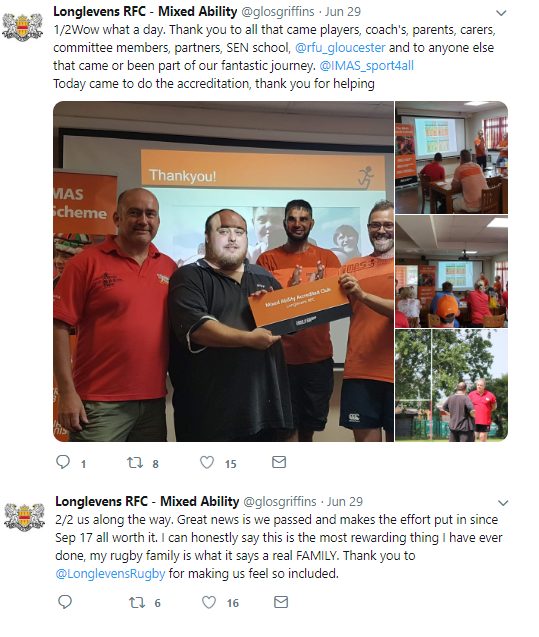 If you are an existing Mixed Ability club and would like to find out more about the benefits of Club Accreditation, please email Mark Goodwin m.goodwin@mixedabilitysports.org