IMAS is pleased to announce a new Partnership with Activity Alliance. Previously known as the English Federation of Disability Sport, over the past seven years, Activity Alliance has become the go-to source of research and insight on disabled people's inclusion in sport and active recreation.
The two organisations are committed to making active lives possible and changing the reality of disability, inclusion and sport. Activity Alliance and IMAS share a passion for making active lives possible for disabled people and supporting disabled and non-disabled people being active together.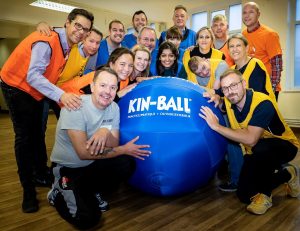 IMAS recently became an Activity Alliance Associate Member. This followed the release of their Manifesto, which aims to break down barriers and transform lives. With a mutual passion for supporting disabled people to be active, IMAS developed the Mixed Ability Model. This model enables disabled and non-disabled participants to play non-adapted sport together and socialise in the same club environment.
Statistics show a large number of disabled people would prefer to be active alongside non-disabled people. This insight helped Activity Alliance to develop Get Out Get Active (GOGA) in 2016. Funded by Spirit of 2012, the GOGA partners are getting some of the UK's least active people moving more through fun and inclusive activities.
Commenting on the IMAS partnership, Barry Horne Chief Executive of Activity Alliance said:
"IMAS will strengthen our membership and together, we will explore and promote initiatives to increase the number of active disabled people. We are delighted to be working with them.
"The Mixed Ability model brings a much-needed approach in providing more structured sport. Although the model was developed particularly within rugby union, there is scope to develop it across multiple activities, with successful examples already including bowls, cricket, swimming, tennis, cycling, indoor archery, wheelchair basketball, boxing and yoga."
Speaking on behalf of IMAS, Director Martino Corazza said:
"IMAS is genuinely excited to have the opportunity to partner with such an experienced organisation. Both IMAS and the Activity Alliance are committed to changing preconceptions about what disabled people can achieve in sport. As well as bringing about global change through Mixed Ability Rugby, IMAS has been working with grassroots clubs to remove barriers to participation. As the Mixed Ability Manifesto illustrates this is not just about widening doors and installing ramps!"
IMAS Co-director Mark Goodwin observed:
"Working with GOGA in the Bradford district has highlighted how well the Mixed Ability model can be incorporated into local initiatives, with clubs and activities becoming established well beyond the programme end. It's crucial that we share the expertise of the Activity Alliance to tackle inequality in sport and active recreation and scale up the opportunities for disabled people to play alongside their non-disabled peers."