International Mixed Ability Sports (IMAS), an organisation that promotes disabled and non-disabled people exercising together, has been awarded a £161,040 grant from Sport England, to help develop their Mixed Ability Sport Development Programme.
The Mixed Ability model was started in rugby, by Bradford's Bumble Bees, and has grown to over 135 players across 7 teams in England. IMAS will copy this model within other 7 new sports like tennis, boxing and rowing.
Leaving the traditional classifications of disability in sports allows an opportunity for people of all abilities to get active. Currently 57% of the adult population play no sport[1] and just 17% of the disabled population play regular sport[2].
The project, led by IMAS, will include over 900 disabled and non-disabled players over the next two years. The players can help promote the project, recruit new sports clubs to join the programme, create accessible resources and gain skills in delivering external presentations. IMAS will use its network of partners to provide support and engage with disabled people.
A team of researchers from the Centre for Disability Studies and the Sustainability Research Institute (University of Leeds), and the School of Sport Exercise and Health Sciences (Loughborough University) will be exploring the social impacts of the project.
IMAS has recently been shortlisted for the Beyond Sport Awards, and was highly commended at the 2016 Third Sector Awards.
Director and Project Manager at IMAS, Martino Corazza, said: "Our priority is to improve the health and well-being of individuals, communities and society as a whole, and change perceptions, attitudes and behaviours towards disability.
"The interaction of people with all abilities, facilitates the education and development of participants and wider society, leading to greater social cohesion and mutual understanding."
Director of Insight at Sport England, Lisa O'Keefe, said: "Our vision in Sport England is that everyone, regardless of their age, background or level of ability, feels able to engage in sport and physical activity.
"We are therefore delighted to be investing in an organisation with a track record in breaking down barriers and stereotypes through sport.  Mixed Ability Sport offers a fantastic opportunity for disabled and non-disabled people to play and enjoy sport and physical activity together."
IMAS has organised two free Open Days on Wednesday 26th and Sunday 30th of October at Heaton Tennis and Squash Club (BD9 5PH) to launch the activities.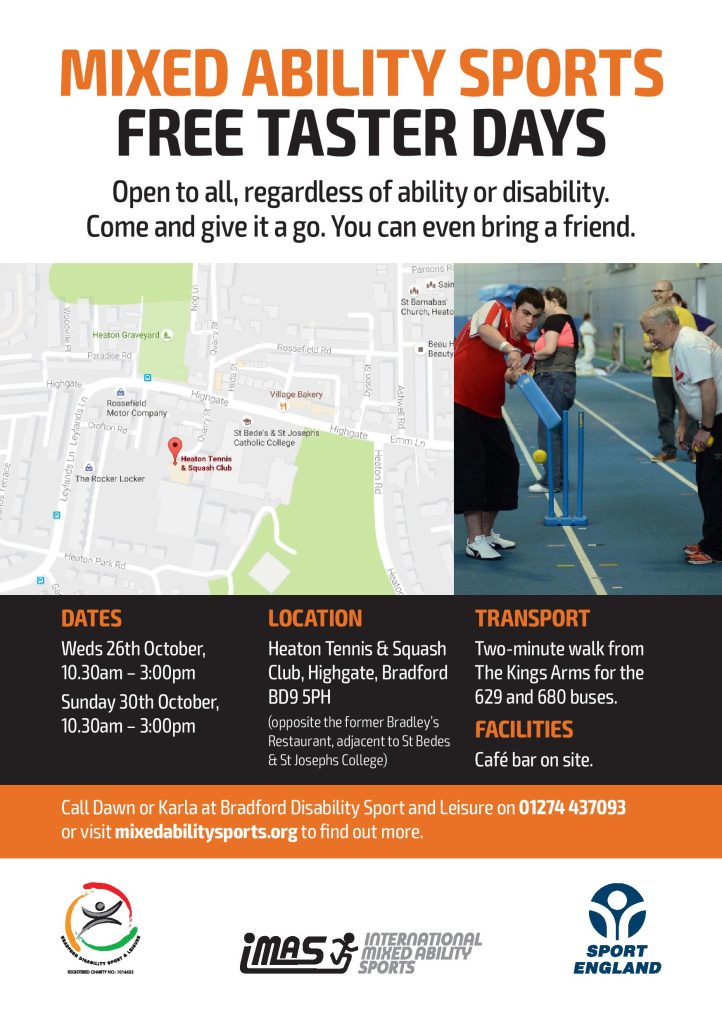 For more information and details about the project please contact IMAS Directors Martino Corazza or Mark Goodwin.
[1] Sport England, 2016 https://www.sportengland.org/research/who-plays-sport/national-picture/
[2] Ibid.