IMAS is delighted to announce a new partnership with The Brain Foundation for the promotion of Mixed Ability activities in Malta, starting with rugby. The Brain Foundation is a not-for-profit organisation set up in 2015 and registered with the Voluntary Organization Commissioner of Malta's Office, with the aim to support people with learning and physical disabilities – mainly minors – in their personal and societal development through rugby and education.
We have asked the president, Marco Ortica, to talk to us about the rugby project that has just started with the Kavallieri RFC, the training they are developing and what's the contribution IMAS may be able to make towards promoting social inclusion in Malta.
So, Marco, what is the rugby situation in Malta?
Rugby in Malta has a long history, the National Team is number 38 in the World Rugby ranking, and we now know that Rugby Sevens will make its first appearance in the Games of the Small States of Europe in 2023. I believe that Malta could easily be an international rugby hub attracting teams and rugby tourists alike. Our climate is a guarantee for any level of tournament, all year round. The Brain Foundation is fully committed to promote rugby and Mixed Ability for all!
How did you start your project and what have you achieved so far?
My father, Lanfranco Ortica, was the number 8 of the Italian national team and kept playing up until the late 70's. I still play and train with the 'Seniors' of the Kavallieri Rugby Football Club in Malta. The idea of using rugby for social inclusion began after my experience in Syria, in 2018, where for the first time I introduced rugby in a school in order to help children to recover from PTSD. We got brilliant results, and when I came back to Malta, I proposed the same programme to AWAS for minors and the children of asylum seekers. We were given permission and we immediately started the sessions, eventually we were able set up weekly sessions across several schools and learning centres, involving hundreds of students.
Can you tell a bit more about the Marqos Method?
Marqos Method©is a procedure created by The Brain Foundation Æ and based on teaching techniques. These focus on communication as well as development of physical and intellectual activities. We facilitate the learning of a sports discipline in order to obtain a positive outcome in terms of work, behaviour, attitude and social interaction. We work mainly with people who have physical or learning disabilities. Our goal is to provide these participants with new tools to approach life in a completely innovative, resilient, independent, and bold way.
What are the activities you are organising and what do you see as your potential for the future?
I am currently writing a programme to provide all our players with the skills and understanding to come together and participate whatever their ability. On Sunday 8th November we organised the first recruiting day and on following Thursday we started the training sessions. We are very aware that here in Malta we only have three rugby grounds which tend to be used exclusively for league matches. We had therefore to be creative and utilise gyms, synthetic turf football grounds, or public venues. These are challenges we face from an operational and logistical point of view.
I believe that IMAS and the Brain Foundation will be able to see this initiative grow rapidly. Another important aspect is the cultural stigma attached to disability. In my experience I have noticed that for some parents and family members these children are a source of shame and they try to take them out as little as possible. We, however, do exactly the opposite: we want them with us on the training ground, anywhere and in whatever weather condition. As you well know, the message of inclusion we promote is not aimed at our disabled participants, but at wider society.
What do you think the value of Mixed Ability is?
Mixed Ability is exactly what our athletes need to grow, develop, enjoy themselves and open up to the world. How could this be possible if we were to keep segregating them in a 'protected' environment? If we pamper them? How is it possible to let them express themselves if we don't offer them the conditions and environment for this to happen? Fortunately, we have organisations like IMAS, The Brain Foundation and Kavallieri Rugby Football Club who say: "hey buddy, come to us and we will show a different way to relate to the world, to your friends, to your family and with this you will decide what your world should look like!".
What do you think the added value of being part of the Mixed Ability movement and the work with IMAS is?
We see common objectives in our partnership with IMAS, where we can contribute towards the expansion of Mixed Ability to other countries – just look at Malta's strategic position! We are certain that IMAS is a partner with whom we share the same vision, which is to promote social inclusion globally through Mixed Ability.
What has the impact of Covid-19 been?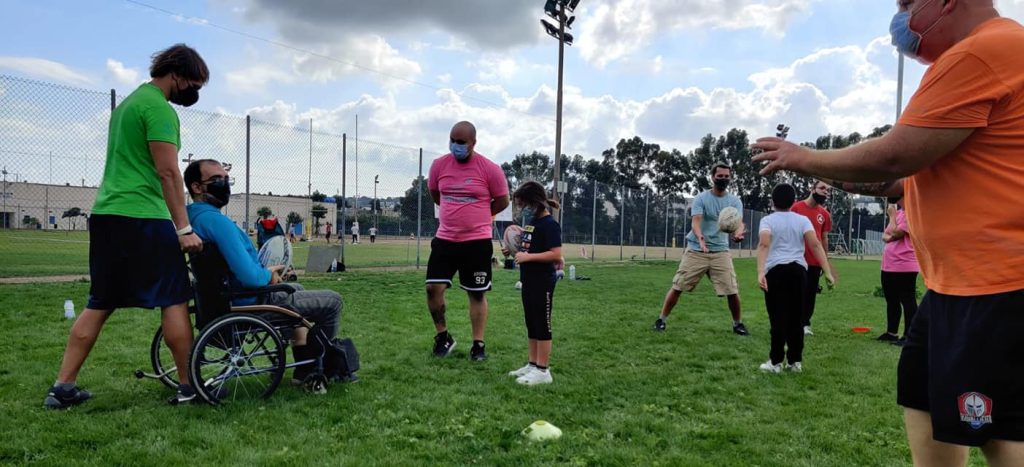 Our families, and kids especially, have been negatively impacted. Covid-19 has broken our schedule, and no one was prepared for such a situation. During the pandemic our participants lost that feeling of membership and belonging. We have re-organised our activities and thanks to families, carers, and volunteers we created e-rugby sessions. Our athletes were very excited and focused on this, and we are very proud of this winning strategy. Like IMAS we are considering keeping and implementing online platforms to reach more people.
Any final quotes from your participants?
I would like to quote my assistant, Christina Naudi, speaking about our first reunification day: "It was a great experience, and it was amazing to see how happy and excited everyone was to see each other again!"