Exciting times recently for Llanelli Warriors Mixed Ability rugby team who were featured on BBC Scrum V on BBC2 at the end of December to celebrate their incredible 25th season.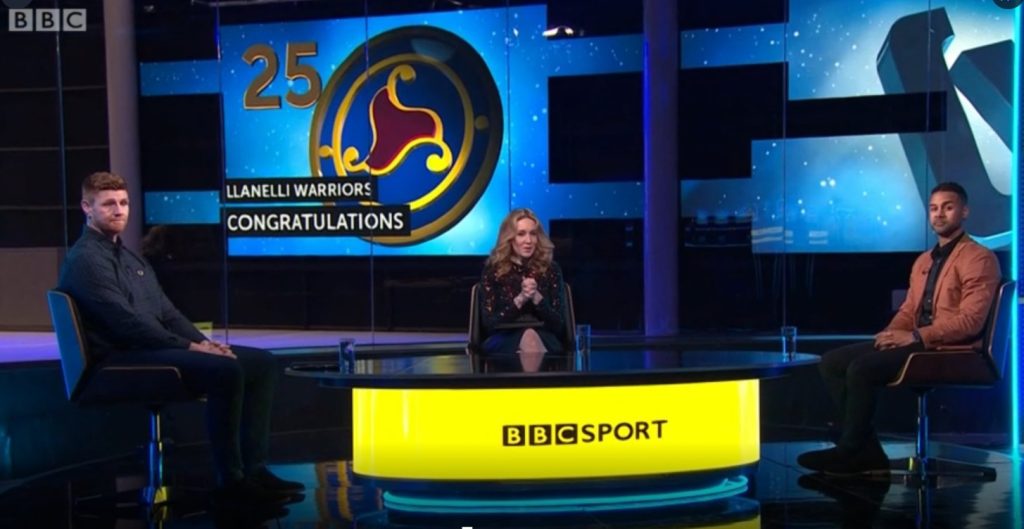 If you missed it, you can watch it again here on YouTube: https://youtu.be/gkhxhMffSe4
Congrats to everyone at the Llanelli Warriors from all of us at IMAS. Kelly from IMAS spoke to the chairman, coach and player of this thriving club, Gwilym, earlier this year to reflect on the milestone and discuss the current situation for Mixed Ability rugby in Wales.
How did the feature on the BBC happen?
With the pandemic, the BBC were trying to find some good news stories to share and we work closely with Darren Carew from the WRU (also featured in the clip) so he put us forward to be featured. We have been featured before, so we are known to the programme and as it was our 25th anniversary, it was a nice story to share. We are also finding that more and more people in the rugby community in Wales are starting to know about Mixed Ability, with 6 teams now in South Wales, which means we are on people's radar and they are interested in what we are doing.
How did you feel about being featured on the programme?
Really chuffed. It's the flagship rugby magazine programme on the BBC, which means it gets seen by the rugby circles and gets Mixed Ability on the consciousness of people who are interested in rugby. It was just a shame that it was filmed in the off season because we couldn't show through playing the game how Mixed Ability rugby is the same format to the rugby that people are used to seeing.
We had a great turn out on the day just like we've had throughout the pandemic; we were a bit worried because the weather was so bad that it might impact attendance, but the team were all there and really pleased to see themselves on television afterwards. It was a positive experience for us all.
For anyone who doesn't already know, what is Mixed Ability rugby?
A Mixed Ability rugby club is a club that gives rugby opportunities to anybody who wants to play, with more emphasis on everybody getting to play a part and less on worrying about the standard being played or on having to win every match. We want everybody to know that they can do something on the rugby field and make a positive contribution.
One of the other positives about Mixed Ability sport is that people can mix and mingle with people they otherwise wouldn't have the chance to speak to. There's been studies done about how many people feel uncomfortable talking to people with disabilities and I think what Mixed Ability does is give the chance for everyone to just be a player, a member of the club, not a person with a disability or a person without a disability. And Mixed Ability clubs playing against other clubs who aren't Mixed Ability extends this opportunity further, so I really think this is important for the future of the sport.
What made you first get involved with Mixed Ability rugby?
I started working at a day centre for people with Learning Disabilities and I was asked on the first day if I wanted to play in the rugby team. I didn't know at the time that it was Mixed Ability, but I was just happy to play more rugby. When I played in my first game, I could see how much it meant to people to be playing and how good some of the players were. It was a great craic and that was me hooked straight away.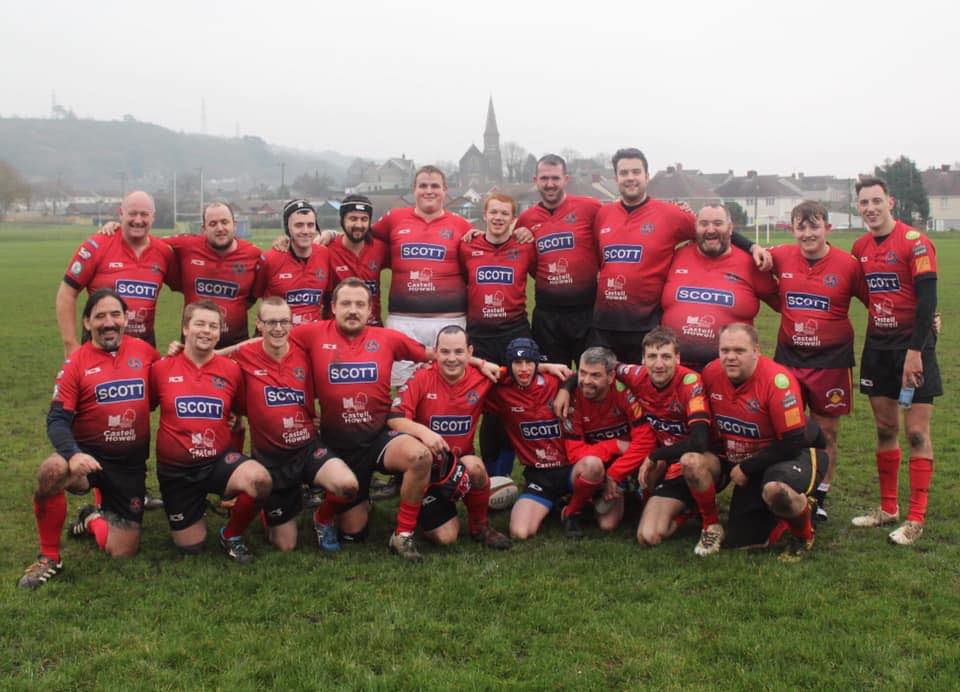 I've heard that Mixed Ability teams see less 'churn' of players and more longevity and commitment from their players – is that the case for the Llanelli Warriors?
Yeah, I think so. With it being our 25th year, I've been having a little look back at how the team has evolved. We've got one guy still playing now who started off in our first season, a lot of the team have played 100 fixtures and a fair few have played 200+ games. I think the fact that Mixed Ability rugby is more about enjoying the game than feeling the pressure to win every game, means that players don't get pushed out to make way for the next young thing. I think that helps with the longevity along with the fact that it's just an enjoyable way to play rugby.
I'm fully aware that what goes on tour stays on tour is a key component of any rugby tour but tell me what your highlights of tours with the Llanelli Warriors have been.
I remember our first tour because we were worrying about the arrangements, the team we were playing, how people were going to cope out of their comfort zones, and it all went brilliantly so that's a good memory. Visiting other countries and new grounds is always a highlight, we've been to New Zealand and Samoa with the Warriors. The naked drill sessions in a hotel in New Zealand was definitely a highlight. I was a spectator in that which perhaps means it was more of a highlight for me than the players involved! And then in Samoa, watching the Welsh international match, having the Samoan version of the Haka, playing our game and feeling like our team had done something that most Welsh players had never done.
Going to Bradford for the IMAS World Cup and being called the 'Champions of Fun' by the Argentinian team and the 'Most competitive team in the World' by the Bumbles. And that's the balance that we've got here in our team. We take our fun seriously, we had costumes every day, tasks every day, people doing random challenges; being thrown out of bars for stripping off, all the things you'd expect from a rugby team on tour.
Your club has been thriving and 25 years is a massive achievement. What impact has the pandemic had on you?
Obviously, it's really gutting for our 25th year when we had lots of special fixtures and events planned to celebrate the occasion. We've had a few moments where we've thought we'd be able to get back to playing and then things have moved back again which has been difficult for the club. We are very conscious that the Warriors are not just a rugby team but a social circle for our players and so we've made an effort to try and engage everyone online with cooking competitions, fitness tasks, etc. That's worked well but it's hard for some of the players who have been shielding since March 2020 and perhaps have only managed short walk in that time.
There have been some positives too; when we were able to get back together for some sessions, it meant more to everyone to be back after having so long of not training. We've also improved our online presence as we've had time to focus on that and our virtual competitions have been well received. You do worry about the mental health and physical health of the players, especially those who rely on the Warriors for their social interactions. Usually, we'd have 2 training sessions and a game every week, plus a monthly disco and other events; so losing that has been a big hit to us all. We can't wait until we can get back to playing some fixtures again.
What advice would you have for any clubs looking to start out on a Mixed Ability journey?
We worked with Cardiff Chiefs when they were setting up and their Chairman said that the best advice we gave them was "Just Go For It". The first thing to do is to get a training session going and then advertise that in your local community, don't be disheartened if there are low numbers to start with as these things grow. There's nothing to lose and lots of people out there who'd like to play rugby without the pressure of winning and losing; people with disabilities, people who aren't getting enough rugby in their local teams, older players who are finding the pressure too much and people who've never played rugby but really fancy giving it a go. That's the beauty of Mixed Ability rugby, all those people can play together.
I hear that you aren't the oldest Mixed Ability team in Wales, that honour goes to Swansea Gladiators.
That's absolutely right. They were the side who originally challenged the day centre to get a team running and they are 3 years older than us. They are the oldest Mixed Ability rugby side in the world. I don't want any stick so I will say it again…Swansea Gladiators are the oldest Mixed Ability rugby side in the world and I'm only too happy to say that. We very much respect them as a club. We have an intense rivalry that has probably pushed us both. Sometimes in the past it has probably affected matches adversely but in recent years the games have been really keenly contested.
How do you feel about the fact that you were the inspiration for the setting up of the Mixed Ability model in England?
As a club, we are passionate and proud about promoting Mixed Ability and it is fantastic that we could share our knowledge and help set up the Bumbles in England. And then that the Bumbles became the catalyst for the creation of IMAS and the world tournaments in Bradford and Spain helping to shape the current growth of Mixed Ability. It's great to see the number of Mixed Ability Sports now being offered and we love to see how the model is spreading around the world. We are really proud of our role in that and it's fantastic to see the real force for good that IMAS has become.
Thanks to Gwilym for his time to talk to us at IMAS and big congrats again on the 25th anniversary. Hopefully it won't be too much longer until you can all celebrate properly. In the meantime, if anyone wants to find out more about Llanelli Warriors, they can be reached on Facebook at Llanelli Warriors – Home | Facebook