International
Mixed Ability
Sports
A community interest company promoting the development of inclusive educational projects, and the expansion of Mixed Ability sports in England and across Europe.
---
Organisers of the International
Mixed Ability Rugby Tournament
IMAS was the organiser of the first ever Mixed Ability Rugby World Tournament with more than 400 participants and 10 countries involved, 5 days of free events and hosted in Bradford.
The first MARWT was endorsed by Helen Grant MP, Sport and Tourism Minister, Department of Media Culture and Sport, England Rugby, Workers' Educational Association, Bradford Council, Provident Financial, Sovereign Healthcare and Barbarian FC.
Our Mission
IMAS promotes and expands the model of Mixed Ability sports, breaking down barriers between able bodied and disabled players through integrated teams.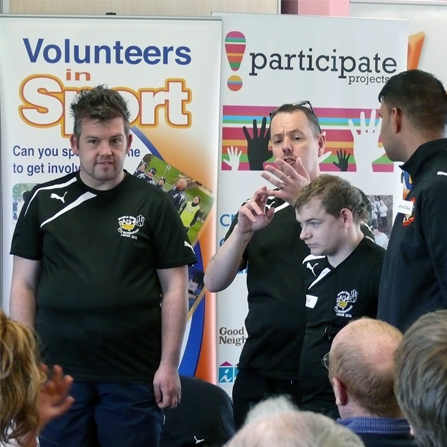 Our Aims
IMAS, working with its partners is:
Providing a proven model which increases the involvement of people with learning or physical disabilities in competitive sports
Raising disability awareness in the wider community by volunteer participation and education
Promoting integrated sports by establishing new Mixed Ability teams
Supplying training, guidance and resources to amateur and professional sport personnel
Developing local, national and international projects delivering social inclusion and education through sport
What can we offer
Guidance in setting up Mixed Ability teams
Provide resources and training in sports clubs and disability events
Customized projects for SEN schools
Event  co-ordination
Membership of a wider network of mixed ability sports
It's built up my confidence, keeps me fit and I love every single minute of it
Gerry Sutcliffe MP

Chair All-Party Parliamentary Group on Disability Sports, Former Sports Minister 2007-2010,
1st Mixed Ability Rugby World Tournament 2015 Official Patron

It is my pleasure to support the International mixed ability competition to be played in Bradford in 2015. This is a great opportunity to develop sporting and educational links through rugby.Raising awareness of disabilities and promoting well being through sport is something that I have always believed in and I hope will attract support from all sections of society.

The Rugby Football Union is delighted to be working with IMAS and the WEA taking Mixed Ability Rugby into grassroots clubs across the country.Together we are rolling out a unique start up package involving players with disabilities delivering exhibition games, promotional presentations, and sharing the life affirming changes brought about by being part of an integrated team.The Mixed Ability Rugby Model illustrates how working with partners like IMAS, we as a collective, can change preconceptions about disabilities offering truly inclusive provision and rugby for all.

Dr Mark Purvis FRCGP

Director of Postgraduate GP Education and Head of School of Primary Care,
Health Education Yorkshire and the Humber

I am delighted to be a Medical Ambassador for IMAS. I have seen first-hand the transformative effect that participation in sport can have, not just in improved mental and physical health but in empowering participants with a greater sense of autonomy, identity and inclusion in their communities.  I have also witnessed the inspirational impact on others, who may themselves experience barriers to participation in healthy activity. Finally, I believe that if we can promote inclusion in sport, then we can set a positive example for the rest of society, including; education in schools and colleges, our health services and the workplace.

Les Cusworth

former Director of Rugby Argentina,
former England and Barbarians International

It is my pleasure to act as an Ambassador for International Mixed Ability Sport whose main function is to promote and expand the model of all Mixed Ability sports, breaking down barriers between able bodied and disabled players through integrated teams. IMAS believes in the power of sport, and what it promotes, providing Disabled people with an opportunity to take part in sport and physical activities, playing alongside non-Disabled teammates, as well as competing in local, national and international competitions.I had the pleasure of being present at the incredible first Mixed Ability Rugby World Tournament, in Bradford in August 2015. It was a truly memorable event for all who experienced the real joy of participation, competition and friendship through sport. I look forward to supporting IMAS with their exciting challenges in the future.

The WEA hasn't moved into sports management but is working in partnership with IMAS to promote inclusion and to challenge stereotypes about disability.The educational aspects of the partnership have enabled players with Learning Disabilities to develop skills for describing and presenting their experiences in sport to RFU clubs so that neighbouring teams can get over their "fear factor" of playing against disabled players and mixed ability teams.Students have gained in confidence, become accomplished public speakers and taught others about diversity and inclusion. It's been a win-win process.