We've all been delighted to see group sports gradually returning to our lives over the last few weeks, and a Mixed Ability family day at Harlow RUFC last weekend was the perfect way to celebrate. As part of the RFU Families Fund project, IMAS delivered and evening of Mixed Ability training, followed by an open day for families, which will now become an ongoing, sustainable activity at Harlow.
The RFU are launching Families Fund projects nationwide, giving families the opportunity to take part in rugby together in community settings.
Sara Evans attended the day with her family, including her daughter, Evie, who has additional needs. Evie's younger sister already plays with the Harlow under 9s team, but this was the first time they'd had the opportunity to all participate together. "We have always tried to encourage our daughter, Evie, to take part in everything we do, but not for one minute did I ever imagine I would see her on the rugby pitch! My heart is filled with so much joy and gratitude to you all. To see all the kids taking part, being encouraged, included, and treated the same as their family members, who they've been watching take part in this amazing sport, was an incredibly humbling experience."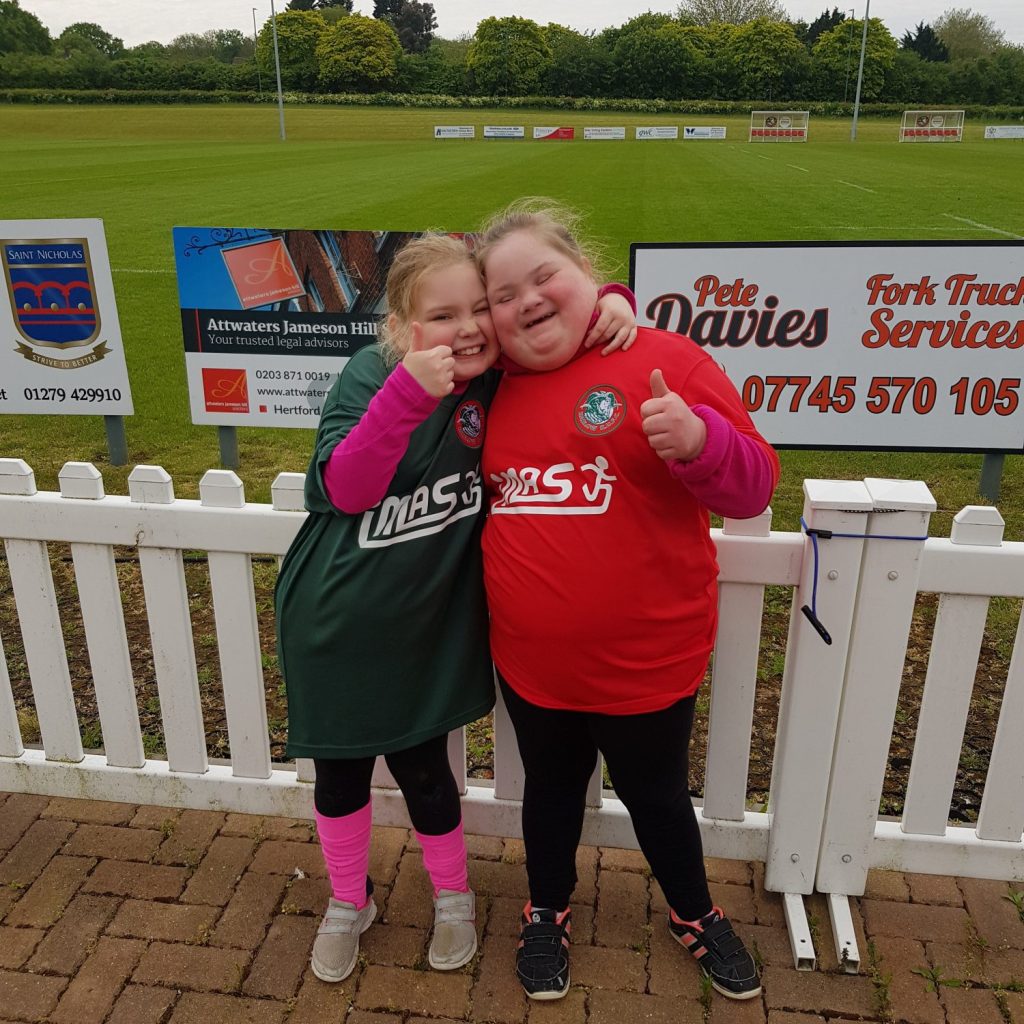 As always, IMAS's Mixed Ability training was co-delivered by Experts by Experience. Sam, Mixed Ability rugby player at Letchworth Bravehearts summed up the experience:
"On the Friday night myself and Rupert alongside Gooders and Chico presented and shared our experience of Mixed Ability rugby and the benefits it gives us as well as to the communities in our local areas and clubs. This was to very wide range of people from around Harlow rugby club.
On the Saturday morning we attended the fun day that had been arranged. We helped set up zones ready for some fun games.
There were a couple of children that arrived early so we worked with them on an individual basis on passing the rugby ball around which was good because it gave them confidence.
It was soon time to start the main games. I join these and encourage people with positive words.
Rupert continued to work with one person who didn't want to join the main group. It was really great to see the improvisation that he was doing working with the individual to create their own game.
It was a great session and so lots of smiling faces and got parents involved to. We quickly got to the end of the session. But you could see help people had fun and wanted to return.
After a break we took part in one match of the Tag tournament that was organised. It was brilliant because a couple of the individuals from the earlier session came back and we were able to get them to play with us. The person playing with me and Rupert in the team got to score a try, which was brilliant.
Overall a really successful couple of days filled with lots of enthusiasm and smiley faces such a big difference."
To find out more about the Harlow RUFC open day, and the Families Fund, head over to the Your Harlow YouTube channel.
If you'd like your club to become even more inclusive, and would like to discuss introducing a Mixed Ability offer, please get in touch through contact@mixedabilitysports.org.